I called San Francisco home for seven years after graduating college. It's the second longest place I've lived (I lived in my birthplace Taiwan for 11 years), and I've experienced much of what San Francisco has to offer someone in their 20's. While a big part of what I love about San Francisco are the world class restaurants and nightlife, I've come to appreciate all that the city has to offer outdoors as well. Here are 50 outdoor activities to do in San Francisco, straight from a local!
I've categorized the activities into Active, Food, Shopping, Cultural, Scenic, a catch-all for Art/Architecture/Music/Sports and Family Friendly Fun. If you're looking for a particular type of outdoor activity, click on the category below and it'll take you straight there.
Active
1. Play Mini Golf at Stagecoach Greens
What better way to spend a weekend than play mini golf and drink wine? Located South of Market, Stagecoach Greens has only been around for a few years. Yet it's already super popular among the locals. The course is inspired by San Francisco's attractions which makes it extra cute.
This spot also makes for a really great date night. I came here with my boyfriend and we loved seeing San Francisco sprinkled throughout the course.
2. Play Real Golf at the Presidio
If you're a serious golfer or want to try your hand at golfing for the first time, the Presidio Golf Course is the place to be. If you've never played golf beyond mini golf this could also be a good place to do it for the first time.
3. Go Deep Water Fishing
I learned that fishing is not my forte. But maybe you'll have more luck.
The San Francisco bay water is filled with salmon, and you can go out into the open water to catch some between May-October. I can't remember the fishing company that took us out, but it was fairly easy to sign up, get a fishing license, and embark on our fishing journey.
I went for a friend's birthday so that was what made it really fun for me, but catching fish was so much more difficult than I imagined! You need to be up early, have strength, and be willing to get yelled at if you're not doing it right lol.
If I haven't completely discouraged you from fishing yet, check out FishingBooker's awesome guide to fishing in SF.
4. Practice Beach Yoga at Crissy Field
I have been practicing yoga for nearly ten years, but only experienced beach yoga for the first time last year! I picked a warm day to go because it can get quite chilly in San Francisco with all the wind, and it was the most perfect and relaxing way. to spend my Sunday.
Wanderer Tip: Be sure to bring some heavy objects to hold down your towel mats in case it gets windy!
5. Take a Silent Disco Yoga Class at Baker Beach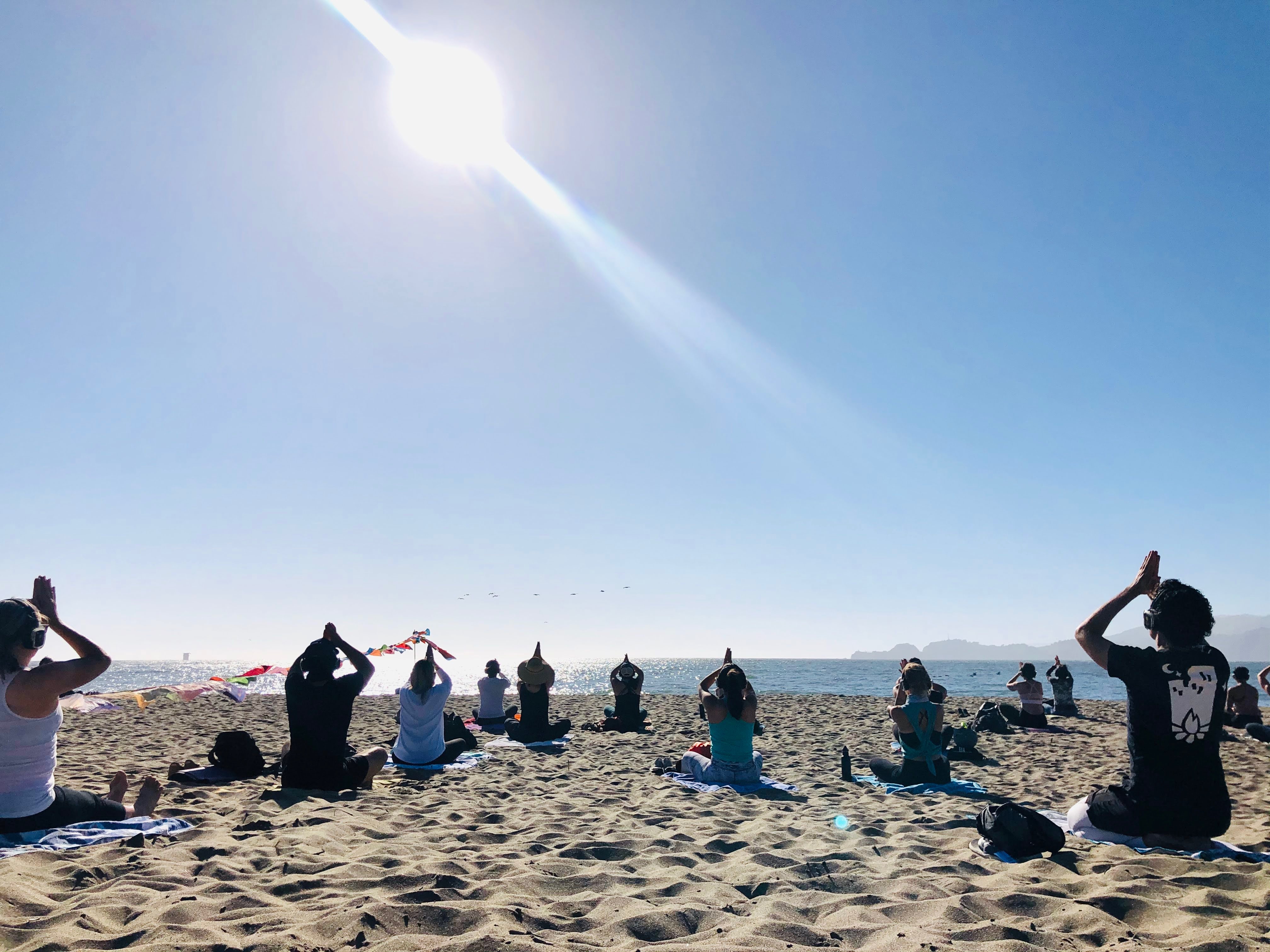 If you want to take a guided yoga class at the beach, check out one of these silent disco yoga classes offered by Outdoor Yoga.
6. Bike Along the Embarcadero
I lived in SOMA the first three years I was in San Francisco, and the Embarcadero was one of my favorite placesto hang out! It's by the water, you can run/walk/bike endlessly without having to avoid cars, and there's a farmer's market on Saturdays.
If you're visiting San Francisco for the first time, biking along the Embarcadero will be an unforgettable experience. Here are some companies that offer bike rentals in the city. Many of them are located along the Embarcadero.
7. Bike Across the Golden Gate Bridge
You can't say you've been to San Francisco until you've seen the Golden Gate Bridge. To make your family and friends even more jealous, walk across the bridge along the sidewalk specifically built for pedestrians. It's also very popular to tandem bike across the bridge. It's a cute outdoor activity you can do with a friend or significant other.
8. Hike at Muir Woods
Muir Woods is technically not in San Francisco but it's suuuper close. The tall trees and shaded trails make it one of the most zen places near the city. The trails are also accessible to beginner and advanced hikers alike.
9. Rent a Boat
I've been on boat twice on the San Francisco bay, and both times I had a blast. These boats will take you under the Golden Gate Bridge. You can also rent a smaller one and host a private party with your friends.
10. Go Paragliding
Why not see the GG Bridge from both under and above? Going paragliding in San Francisco has been on my bucket list for a while now.
11. Ride a Scooter in Golden Gate Park
Golden Gate Park is massive and it offers us city people a much needed escape into nature every once in a while. You can enjoy the park just by going through it, whether that's via running, walking, or riding a scooter.
At the end of Golden Gate Park, you'll also be able to get a glimpse of Baker's Beach.
12. Hike the Edgewood Trail
Golden Gate Park isn't the only patch of greenery in SF. Just a few blocks south of the east entrance to Golden Gate Park is Mount Sutro, which offers some trails for hiking.
I hiked the Edgewood trail (entering from Edgewood Ave) with two girlfriends one weekend. I loved walking through the tall trees and breathing in fresh air.
Wanderer Tip: Have brunch at Zazie afterward. Their pancakes are out of this world!
13. Walk Down Lover's Lane
Less of a hiking trail and more of a walking path, Lover's Lane is located at the northern tip of San Francisco at the Presidio. The tall trees on each side of the trail makes it extra romantic. Definitely add this to your weekend itinerary if you're visiting with your significant other.
14. Play Tennis at Alta Vista Park
If you're not impressed by the amount of outdoor activities to do in San Francisco yet, maybe this one will be the tipping point for you.
San Francisco has a total of 14 tennis courts. The courts at Alta Vista Park are among the most scenic to play at! The park is located on the top of a hill in Pacific Heights, and it's a popular place for dog walking, playing tennis, and general exercising.
15. Ice Skate in Union Square (Seasonal)
This last one is for those visiting in the winter. Every year, the Union Square Ice Skating Rink opens in November and stays open for ice skating until late January. It was closed last year due to COVID, but if current vaccination trends continue, I think it's safe to say ice skating will be back in order in November 2021!
16. Hike the Cataract Falls
Cataract Falls is just outside of San Francisco in Marin. It's one of my favorite hikes in SF and I highly recommend going. The best way to get there is by car and the drive is a little over an hour.
Wanderer Tip: The best time to visit is right after it's rained. That's how you'll get the most active waterfalls and it's gorg!
Food
17. Shop at the Ferry Building Farmer's Market
The Ferry Building Farmers Market is open Tuesdays, Thursdays, and Saturdays. The Farmers Market has everything from fresh vegetables and fruits to oysters on the shell, to rotisserie chicken and hot sandwiches.
Besides the Farmers Market, the Ferry Building also has permanent vendors that sell delicious delicacies. Humphrey Slocombe Ice Cream, Blue Bottle Coffee, and Hog Island Oyster Co. or some of my faves!
18. Picnic at Dolores Park
Plan an afternoon of picnicking and hanging out at Dolores Park in the Mission District. It's somehow sunny 90% of the time there and the 16-acre park gives SF residents and visitors plenty of space to sit.
Before going to the park, first stop by Bi-Rite Market to pick up ingredients for your picnic. If you want something quick and pre-made, also consider Greek food spot Souvla – it's Michelle Obama approved! Then make your way to the nearly 16-acre park for some afternoon chillin'.
19. Off the Grid Food Trucks
Food trucks may have reached its peak in terms of trendiness, but the idea of grabbing a quick bite at a night market with hundreds of others and eating by the water is still drool-worthy.
Off the Grid offers food trucks at Fort Mason every Friday. Although temporarily closed due to COVID, I'm hopeful it will open again soon!
20. Spark Social Food Trucks
Another organization that offers food trucks is Spark Social in SOMA. While Off the Grid has great food options, I like Spark Social is more for the atmosphere. There's carefully placed artificial grass, lawn chairs, and fireplaces. The detail that the organizers have put into creating this place makes the experience extra cozy.
21. Go On a San Francisco Coffee Tour
San Francisco has some of the best coffee in the world. I created a list of my Top 10 Coffee Spots in San Francisco. Use it as a guide when planning your tour!
22. Do a Walking Boba Tour
If you're not a coffee drinker and boba is more up your alley, I've also got you covered.
23. Brunch at Fable
Fable is an American brunch spot located in the Castro District. It has one of the cutest patios in town! Due to the windy weather in San Francisco, the city's not exact known for its outdoor dining. Fable is one spot that does it well.
24. Enjoy a Margarita Pitcher at El Techo
On a similar vein, El Techo is simply the best rooftop bar in San Francisco! Not only does El Techo serve delicious margaritas, it also serves brunch every Saturday and Sunday. Find out more about their hours here.
25. Go to the Biergarten
Get a taste of German brews and foods at the Biergarten located in Hayes Valley. This is another restaurant that does the outdoors well, and their food is so tasty.
26. Sip Craft Cocktails at 620 Jones
620 Jones has been a personal favorite since I arrived in San Francisco in mid 2010! The cocktail bar has an inside and outside area, but most people go for the patio. And their cocktails are delicious.
They have a reservation system going right now for outdoor dining during COVID.
Shopping
27. Shop at TreasureFest
I think Treasure Island is one of the most underrated places in San Francisco. Yes, it is small, but it has amazing views of the city.
The island hosts a flea market called TreasureFest from time to time with hundreds of vendors and cool finds. It's currently closed due to COVID – stay in the know for when they open by signing up for their text message reminder.
Fun Fact: Indiana Jones was filmed here!
28. Visit the Farmer's Market at Civic Center
The Farmer's Market at Civic Center is a larger but grungier (ha) version of the Ferry Building market. Although the vendors are pretty awesome.
There's hot foods there to purchase as well, but what I like the most is their flowers. They're affordable, beautiful, and directly from the farmers.
Cultural
29. Stroll through Chinatown
San Francisco's Chinatown is self-proclaimed to be the largest Chinatown outside of Asia. It's also the oldest in North America. The streets alone are breathtaking to walk through. If you have time, it's also a great spot to shop for souvenirs and get delicious Chinese food.
Wanderer Tip: Golden Gate Bakery is a local's favorite for traditional egg tarts.
30. Stroll through Japantown
Although not as big in scale as the San Francisco Chinatown, Japantown is still a fun place to be. There's good food, shops selling Japanese books, stationary, and household items, and it's the only place to get a wide variety of Japanese groceries.
31. Hang Out at the Japanese Tea Garden
Another place in San Francisco that'll give you a taste of Japan is the Japanese Tea Garden in Golden Gate Park. There's a little food stand inside the garden so you can actually sit down and enjoy some tea and snacks.
32. Experience "Little Italy" on Columbus Street
Little Italy is a section of North Beach with lots of Italian restaurants and delis. Some of the local's favorites are the Italian Homemade Company and Golden Boy Pizza. Il Casaro serves thin crust pizza and is my personal favorite.
For a full list of things to do in Little Italy, check out Tripadvisor's guide here.
33. Learn about San Francisco History on Angel Island
Angel Island is filled with history. I actually paid my first visit before I moved to San Francisco. I was a part of an Asian American club in college and we visited Angel Island to learn about the place that processed hundreds of thousands of immigrants (mostly Chinese) between 1910 to 1940. It was a wonderful educational experience.
34. Get Spooked on Alcatraz Island
Whoever thought of building a prison on an island with killer views to San Francisco is both cruel and silly. Cruel because it really sucks that the prisoners can see SF all day and not be able to enjoy its beauty. Silly because imagine how much money they would've made now if they built a mansion there instead.
Jokes aside, Alcatraz Island is one of the coolest outdoor activities you can find in San Francisco.
Wanderer Tip: If you're visiting around Halloween time, I highly recommend the Alcatraz After Dark tour.
Scenic
35. Photograph the Golden Gate Bridge
Photography professionals, beginners, and tourists with smartphones: this one is for you. Practice your photography skills by using the Golden Gate Bridge as your subject. California Through My Lens has a great list of places to photograph the Golden Gate Bridge.
36. Picnic at the Marin Headlands
Marin Headlines has an incredible view of the Golden Gate Bridge and the city. Enough said.
37. See San Francisco from Coit Tower
Coit Tower is located on Telegraph Hill and is one of the best places in San Francisco to get a 360-degree view of the city and bay. It was a monument built from the funds left by Lillie Hitchcock Coit, a wealthy San Franciscan who wanted to contribute to the city's beauty when he died. You can read all about the tower's history on its website.
38. Stroll Along the Marina Green
You can get an unobstructed view of the Golden Gate Bridge on this 74-acre expanse of grass between Fort Mason and the Presidio. Marina Green is super close to my old apartment in Russian Hill and I loved running here and taking in the view. The huge patch of grass gives you space for a lot of outdoor activities too: ultimate frisbee, a picnic, an afternoon with your dog.
39. Enjoy the Sunset at Alamo Square
The Painted Ladies are probably one of the most iconic places in San Francisco. My favorite way to admire the architecture is to come to Alamo Square at golden hour and just hang out there as the sun goes down. You'll thank me for all the beautiful pictures you'll be able to capture there 🙂
40. Walk through Telegraph Hills
San Francisco has so many hills! That ringed even more true after I moved into Russian Hill. I don't think I'd ever been more fit in my life haha.
The hills might sound scary at first, but it's what makes San Francisco so beautiful. And seeing the city this way is so worth the exercise. Just think of it as a hike.
Wanderer Tip: Telegraph Hills is perhaps the best place to do this.
41. Drive Up Twin Peaks
There's another public space in San Francisco that offers breathtaking views of the city besides Coit Tower: Twin Peaks! You can't go here by foot so be sure to rent a car or find a bus that will take you there.
42. Walk Down Lombard Street
Lombard Street is the windiest road in the world. And not only is it windy it's symmetrically so. You can expect lots of tourists to be there during the day, so try to go at first light or after sundown to experience these quirky steps.
43. Visit the Lyon Street Steps
Lyon Street Steps is similar to Lombard Street in that it's surrounded by beautiful homes owned by some of the wealthiest people in the world. It's a lesser known spot than Lombard Street though so you can expect it to be less touristy.
44. Take Pictures on 16th Avenue Tiled Steps
The 16th Avenue Tiled Steps are located on Moraga St. between 15th & 16th Ave. It was created by artists Aileen Barr and Colette Crutcher using 163 mosaic panels. You've probably seen it lots on Instagram.
Art, Architecture, Music & Sports
45. Admire Art at the Legion of Honor Museum
The Legion of Honor Museum can be found at the end of a short hike up Land's End. The museum itself looks like a building from a magical forest. Its collections include European paintings, European decorative arts and sculpture, and ancient art from the Mediterranean basin.
46. Go to a Live Concert by the Pool
Similar to outdoor dining, pool parties are not something San Francisco is known for. That's why when there's the opportunity to go to one, us locals will keep going back!
Phoenix Hotel is the only place in San Francisco (I know of) that offers poolside concerts. Granted, people stand in front of the pool rather than in the pool since only hotel guests are allowed in. Nevertheless the atmosphere is still there and it's usually a good time.
47. Check Out Murals Around the City
I started appreciating murals much more during the pandemic. I loved visiting museums pre-pandemic times, and having murals to see sort of served as a replacement. Here's a recent guide to murals in the SF. Happy mural hunting!
48. Watch a Giant's Game
Of the four companies I've worked for in San Francisco, three of them took me and my team to a Giant's game! It's a popular activity among the locals and a fun outdoor activity in San Francisco for bonding and making new friends.
Wanderer Tip: Oracle Park Stadium, where the Giants play, has some amazing food options. The lobster roll is an all-time favorite of mine.
Other Fun Outdoor Activities in San Francisco
49. Watch Sea Lions at Fisherman's Wharf
The San Francisco sea lions hang out at Pier 39 almost year-round. You can spot them chilling on planks of wood or swimming along the pier during the day time. I don't see how you can not fall in love with these cuties!
50. Stay in a Boat House
Did you know you can stay on a boat in San Francisco? VRBO has a great list to get you started.
San Francisco Has Much to Offer
As I was putting this list together I realized I've done 90% of these! I guess that's what living someplace for seven years will help you achieve. I really hope you'll enjoy some of these activities that I've suggested. Let me know if you have a favorite 🙂